Molecules 1.0.1 available on iTunes
July 26, 2008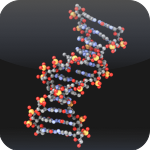 It looks like things are settling down in the App Store, because Molecules 1.0.1 is now available for download.
Fixed in this version:
The chemical bond lookup tables have been enhanced to include standard amino acids, all nucleotides, and the bonds in-between, so most DNA, RNA, and protein structures should be properly represented.
A visual corruption bug when scrolling over the rows in the detailed description of the molecule has been fixed.
A minor glitch where the Info button on the main view could be pressed twice in a row has been fixed.
I'll admit that I pushed 1.0 out a little early, but I had assumed that I could get a patch posted within a couple days. I apologize to the iTunes reviewers who described 1.0 as an incomplete product. It currently is more proof-of-concept than useful scientific tool, but I plan to add capabilities as quickly as I can to bring it closer to that level.
I'm currently working on a larger 1.1 update, which will add spacefilling and cylindrical (with residue-specific coloring) visualization modes, integrated keyword searching of the Protein Data Bank, and should improve performance by caching the molecules in a SQLite database the first time they are loaded.