Molecules 2.01 now on the App Store
May 17, 2011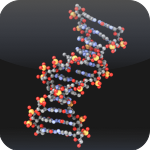 A minor update to Molecules, version 2.01, is now on the App Store. This new version fixes some slight bugs with the new rendering engine in 2.0, including a case where the ambient occlusion shading for a model would sometimes appear too dark, as well as some odd glitches when using pinch zooming on a model.
I've also reenabled panning across the model using two fingers, which wasn't working well for 2.0 so I had left it out of the initial release. The way that the panning works has also been tweaked to have zooming and rotation always occur from the center of the screen.
Finally, rendering performance on the iPad 2 has been slightly improved.